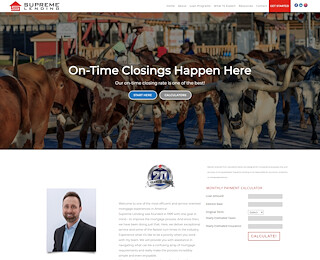 It surprises many hopeful home buyers to learn there is another option for funding when looking to buy a home. If you're not happy with the service you receive at your bank, consider contacting our experts from The Elite Team to discuss alternatives to a bank loan. We partner with many lenders to bring you more options.
Related post authors include:
Gold Miner's Choice
Gold Miner's Choice
Are you in debt over your head? You may have heard stories about others who were able to consolidate all of their debt into one easy-to-manage monthly bill with a lower interest rate. DCC can help you with bill consolidation as well, when you call their office at 877-209-2225. Don't let debt ruin your finances- take control of the situation today, with Debt Consolidation Connection.
Debtconsolidationconnection.com
Ready To Soar?
Join Our Elite Team
Get Started
Find A Loan Officer
Email Us
EliteTeam@SupremeLending.com
Phone Numbers
Bastrop: 512.646.6080
Colleyville: 817.424.5995
Flower Mound : 469.955.9315
Greenville: 469.661.0227
McKinney: 469.246.1100
Plano: 972.918.0404
Sulphur Springs: 903.650.8022