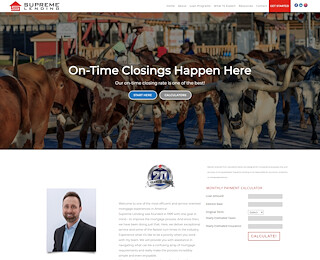 Supreme Lending is your trusted loan broker in McKinney, Texas. For several years, we have been recognized to provide loan facilities for individuals and business. Through our quality and reliable services, we continue to facilitate a smooth loan process. We provide home loans in McKinney, TX, at the best rates.
What's more, The ELITE Team at Supreme Lending will take their time to educate you about everything involved in the loan process. Our trusted experts will also advise you about the loan options available to you. Whether you are getting a home loan to purchase your first home or 1,000th property, we are the right loan broker in McKinney, TX, to always turn to.
What Is A Loan Broker?
A loan broker is that individual that stays in between a lender and a borrower. A loan broker can also be called an intermediary or the third party who gathers all the relevant information in the lending process and approaches different lenders on your behalf.
When you are applying for a loan, how can you be sure you're getting the best rate possible? Or probably you don't even know which lender to go to. A loan broker is the person that does all these findings, and also negotiate on your behalf. The broker seeks out all the options available for you and guides you on how to make the best decision regarding your loan.
What Are The Advantages Of Using A Loan Broker?
When you are looking for a loan, there are many options available to you, and some technical terms which you may not really understand. Having a loan broker will help you a lot, here are some of the advantages of using a loan broker:
Expertise: A loan broker is an expert and also experienced when it comes to loans. Hiring one is essential as they are knowledgeable about all the terms related to loans, and they have all the experience needed to get you qualified for loans.
Time-Saving: Loan process is time-consuming, you might not be able to cope with the application, and communications with the variety of loan lenders, especially if you are too busy with your daily work. A loan broker can save you time by managing those tasks for you.
Help You Get The Best Rate: A loan broker is the one that can find you the best rate possible. Instead of you going to one lender, they will submit your application to different lenders, and help with all the comparison to find the best deal possible for you. 
Handle All Paperwork for You: It is necessary to hire a loan broker because you might not be well versed with all the terms and paperwork involved. A loan broker will take care of all the paperwork such as application, and legal work in the loan process.
Contact Us Today!
Contact us today at Supreme Lending to know more about our services. The ELITE Team at Supreme Lending will be available to speak with you. We will provide suitable answers to your inquiries and concerns. A fantastic experience awaits you.
Loan Broker McKinney
The Elite Team Supreme Lending - Branch 614
469-246-1100
6951 Virginia Parkway, Suite 101, McKinney, TX 75071
View Larger Map
We welcome your comments!
Ready To Soar?
Join Our Elite Team
Get Started
Find A Loan Officer
Email Us
EliteTeam@SupremeLending.com
Phone Numbers
Bastrop: 512.646.6080
Colleyville: 817.424.5995
Flower Mound : 469.955.9315
Greenville: 469.661.0227
McKinney: 469.246.1100
Plano: 972.918.0404
Sulphur Springs: 903.650.8022