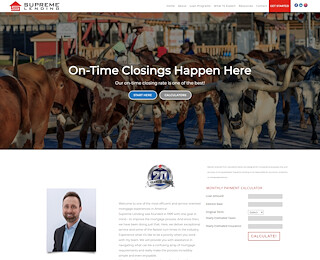 Buying a home should be one of the more exciting times in your life. However, there is a lot that is involved in looking for good home loans in Colleyville, and the last thing that you want to do is find yourself stressed out. When you are trying to weigh your options, you will see that finding the right lending institution will make all of the difference in the world. This is where our staff at The Elite Team at Supreme Lending is here to help. In the meantime, we have put together some information for you regarding home loans and what your options might be. 
How Do I Get A Home Loan With Bad Credit? 
Depending on the lender that you work with, you may have the ability to get a home loan when you are in the market to buy. It used to be that you had to have a much higher credit score than what is acceptable today. In many instances, you can get approved for a home loan even if you have bad credit. Such home loans for bad credit are often called a sub-prime mortgage. Additionally, FHA loans are also available for people who have credit scores that may be as low as 580 or 500 as long as they have a certain amount of money to put down. 
How Do I Get A First Time Home Owners Loan? 
There are many times when someone might be thinking of buying a home for the first time, but they are not quite sure where to look. The good news is that you can get the help that you need for home loans in Colleyville by merely finding the right lender to work with. For some, the process of finding a suitable home loan can be daunting, which is why it is smart to work with the best mortgage company in the area.
An FHA loan is the type of mortgage that is often used the most with first-time home buyers, and it may fall in line with your needs as well. This is generally an option that comes with a lower down payment and requirements for credit. If you are still working on your credit and you want to bring up your score a bit, there are some helpful tools available online and your mortgage company may also be able to give you some beneficial pointers that will get you going in the right direction. 
It is important to us at The Elite Team at Supreme Lending that we work to build solid relationships with our customers, which is why we do our best to ensure you have an excellent mortgage experience. We are not only here to get you the best rate on a new home loan, but you will always find the answers to whatever questions or concerns that you may have throughout the lending process. You come to us for traditional home loans in Colleyville, government loans, and much more. Whether you are looking to finance a second home or a primary residence, our friendly staff of knowledgeable lending experts is here to get you the result you are looking for in a timely fashion.
Home Loans Colleyville
The Elite Team Supreme Lending - Branch 614
817-424-5995
8500 Precinct Line Road, Suite 100, Colleyville, TX 76034
View Larger Map
We welcome your comments!
Ready To Soar?
Join Our Elite Team
Get Started
Find A Loan Officer
Email Us
EliteTeam@SupremeLending.com
Phone Numbers
Bastrop: 512.646.6080
Colleyville: 817.424.5995
Flower Mound : 469.955.9315
Greenville: 469.661.0227
McKinney: 469.246.1100
Plano: 972.918.0404
Sulphur Springs: 903.650.8022