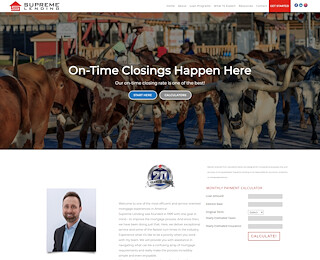 Taking a home loan can seem like an overwhelming task, as it involves so many facets such as getting a reasonable interest rate, finding the right loan, lots of documentation, different kinds of fees, a procedure to be followed and so on. So, we at Supreme Lending have decided to guide you through the available choices to decide on a loan that is right for you and make you realize that homes loans are actually nothing to be afraid of. 
A growing choice of features
While interest may be lower than they use to be, today's home loans offer a wide range of choices and features that simply didn't exist years ago. For starters, you can choose from fixed, variable, or split-interest rates. There are also options for professional packages, flexible repayments, and portability.
It can seem challenging, but the best place to start is to look at your current situation and consider where you might be in a few years. Are you investing, refinancing, buying your first home, or self-employed? When you have figured all that out, it makes it a little easier to understand which home loan features might best work for you.
Lots of lenders in the market
It is not only the choice of loan features that have grown; there are now a lot of lenders in the market. While home loan lenders were once limited to a couple of banks, the market is now more competitive with lots of loan providers. And Supreme Lending offers customers thousands of loans from an extensive range of loan providers.
You don't necessarily need to go with the lenders your friends or parents have, consider loan features and the value of customer service. Also, remember that banks are not the only lenders that are worth considering. 
What is your credit rating?
Decades ago, your credit rating didn't really matter, but today, a poor credit rating can mean your loan application could be rejected, or you could end up paying a higher interest rate. In recent years, home loan lending criteria has tightened up considerably. Where lenders will overlook small defaults a few years ago, they want a clean credit history today. Before you start looking for a home loan, we recommended you get a free credit check.
How do I become approved for a home loan?
Before you can qualify for a home loan, a lender will usually ask you to make a down payment on the home to be sure that you are serious about purchasing the property. Also, the lender will ask for your personal financial information related to your employment history, credit score, annual income, and any outstanding debt. Also, the lender will ask for the deed to the property that you want to buy; this protects them in case you default.
Ready to take the next step?
Getting the home loan that is right for you doesn't have to be complicated. Supreme Lending has a personalized approach to help you find a home loan solution that suits your individual needs. Have a chat with any of our experts today, and let us help you get the loan you need to buy your dream home.
The Elite Team Supreme Lending - Branch 614
469-246-1100
6951 Virginia Parkway, Suite 101, McKinney, TX 75071
View Larger Map
We welcome your comments!
Ready To Soar?
Join Our Elite Team
Get Started
Find A Loan Officer
Email Us
EliteTeam@SupremeLending.com
Phone Numbers
Bastrop: 512.646.6080
Colleyville: 817.424.5995
Flower Mound : 469.955.9315
Greenville: 469.661.0227
McKinney: 469.246.1100
Plano: 972.918.0404
Sulphur Springs: 903.650.8022