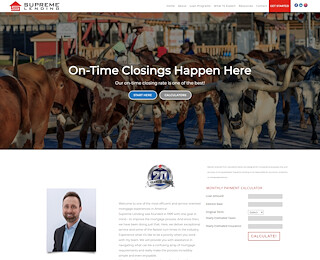 Owning a house is becoming possible for many with the increase of home loan programs. Purchasing a house through a loan eliminates the burden of having to save for years to afford one. A home loan mitigates the effect of inflation and helps you through the turbulent times of an unstable economy.
Do you need a Colleyville home loan? For a transparent and well-informed deal, Supreme Lending will make you an unbeatable offer with no hidden charges.
How Can You Get Approved for a Home Loan?
Your credit score is one of the most important factors any lending institution looks at. As such, it's advisable to build a good credit score. It's also important to check your credit report for errors and report those errors for correction. Most lenders advocate for improving your credit score since a few points can be the only difference between being approved and being rejected. There are different ways you can improve your credit score. For instance, making your bills and utility payments on time, repaying outstanding loans, and keeping balances low on credit cards.
The home loan process can be quite confusing and complex, especially for first-timers. At Supreme Lending, we simplify the process of acquiring a home loan by carefully taking you through all the details.
Can You Get a Home Loan with a Credit Score of 650?
There are different types of home loans, and each requires a certain credit score limit. For most home loans, a credit score of between 620 and 650 is average to good, hence one qualifies. However, there is more to what a lender looks at than just the credit score.
The lender will also want to request your bank statements for at least two months. One reason is to ascertain that you have the amount required for a down payment. Getting a home loan comes with charges such as closing costs which range between 2% and 5% of the loan amount. A down payment also means that you should have at least 3.5% - 20% of the buying price, depending on your loan type. Therefore, if you live from paycheck to paycheck, you might need to wait until you have a sufficient bank balance.
How Does My Credit Score Affect My Interest on a Home Loan?
As a general rule of the thumb, interest rates for home loans increase as credit score decreases. With a credit score of 620, most lending institutions will make you an offer, but the interest rates will be high. Your credit score should be to the tune of 740 and above to qualify for a low-interest home loan.
At Supreme Lending, we believe that every factor is crucial. As such, we do not make a decision based on your credit score alone. Our ELITE team takes into consideration every factor in your repayment process to come up with the best offer for you.
Become A Homeowner Today
Do you dream of owning a house in Colleyville and the surrounding cities? Then, it's time to make your dream a reality. At Supreme Lending, we believe in our "Building Customers for Life" slogan, which makes customer satisfaction our top priority. Talk to our ELITE team on 469.246.1100 for North or 817.424.5995 for South and begin the process of acquiring your Colleyville home loan.
The Elite Team Supreme Lending - Branch 614
817-424-5995
8500 Precinct Line Road, Suite 100, Colleyville, TX 76034
View Larger Map
We welcome your comments!
Ready To Soar?
Join Our Elite Team
Get Started
Find A Loan Officer
Email Us
EliteTeam@SupremeLending.com
Phone Numbers
Bastrop: 512.646.6080
Colleyville: 817.424.5995
Flower Mound : 469.955.9315
Greenville: 469.661.0227
McKinney: 469.246.1100
Plano: 972.918.0404
Sulphur Springs: 903.650.8022